Minjie | Officially Certified by ISO9001 Standards Requirement
---
Minjie with Certification by ISO9001


Here comes an event that Minjie has officially been certified by ISO9001: 2015 standards requirement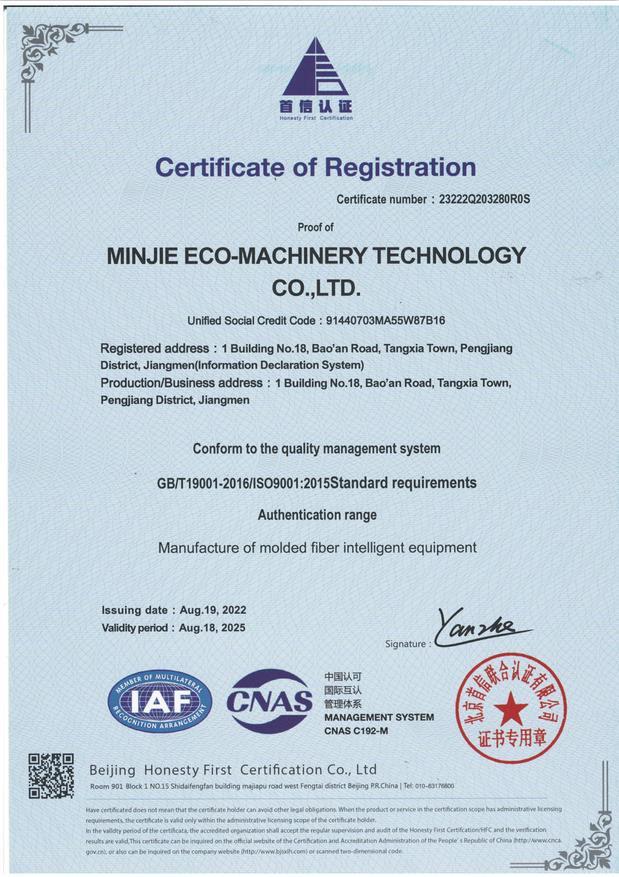 With months of successive follow-up by the authority, Minjie finally got its certificate by ISO9001: 2015 standards requirement.
With abundant experience of its core members, Minjie has been offering its molded fiber intelligent equipment solutions to customers throughout the world, with its ambition: to make sky bluer. Leave the chance to Minjie, and you shall open the window to a more suitable and feasible project solutions to machine, mold and finished products.
Relate Blog
undefined
Minjie Eco-Machinery Technology Co., Ltd.
Factory
Tangxia Town, Pengjiang District, Jiangmen City, Guangdong, China
Operation Center
Lihe Science Park, Shishan Town, Nanhai District, Foshan City, Guangdong, China
---