ABOUT US

Minjie Eco-Machinery Technology Co., Ltd. has been focusing on the R&D and sales of molded fiber project for molded fiber machinery, mold, finished packaging and intelligent production, with overall solution.
Minjie has established its base in Pearl River Econimic Zone, China's industrial manufacturing center, currently with three manufacturing facilities (in Jiangmen) and one sales and R&D operation center (in Foshan), Innovation, Technology, Dedication, Harmony", targeting to provide clients with one-stop service, covering an total area of 20000㎡. Minjie, from its very establishment, has been keeping the philosophy of "Smart Manufacturing Proceesing Excellence", and moving forward with foundation "technology comes as core", succeeding to be recognized as "High-tech Enterprise", making process within market competition by keeping exploring regulatory management, and managing to be lifted in the OTC stock market (with code: 893569). Meantime, Minjie has gained quantities of patents, complying to ISO9001 Quality Management System and being approved by various international certification.
Minjie has always insisted that technology core creates value, reserving experienced teams in processingf techniques, technology research and development, mold design, machinery commissioning, and after-sales service, dedicated to stepping towards higher automation, lower energy and more superior efficiency by way of continuous innovation and concentration in study.

Minjie has been and always will be fulfilling the ambition: to Make the Sky Bluer.
DEVELOPMENT COURSE
Listed in OTC Stock Market
Registered in Caton Stock Exchange Center
High-tech Verification
Succeeded to be certified as "High-tech Enterprise"
ISO9001 Approved
Got the conformation to the quality management system within ISO9001
Joined IMFA
Gained the membership of the Internation Molded Fiber Association (IMFA), with bigger openess to the world
Joint with HS Robot
Started as strategic partner with HS robot, providing front-to-end technical service
Succeeded in 3rd-generation machinery
Managed to research in the 3rd-generation high-speed molded fiber tableware machinery, up to as high as 2000kg/day in output, applicable to various designs
Founded Minjie Eco-Machinery
Dedicated to undertake machinery research and manufacturing; managed to research in 2nd-generation integrated and automatic inter-transfer molded fiber machinery
Joint with Lvzhou towards automation
Cooperated with Lvzhou in researching 1st-generation robot integrated molded fiber machinery
Deepened cooperation with FirstPak
Tightened as strategic partner, providing front-to-end technical service
Started to cooperate with FirstPak
Started to supply product and mold solutions to Firstpack
Started to cooperate with Lvzhou
Established close cooperation with Lvzhou, one of the biggest molded fiber finished product supplier in China
Founded Jiayi Technology
Specialized in various molded fiber tableware mold design and making
Started to cooperate with Shenling
Started to supply machinery to Shenling, leading molded fiber finished product supplier in Southern China
COMPANY QUALIFICATION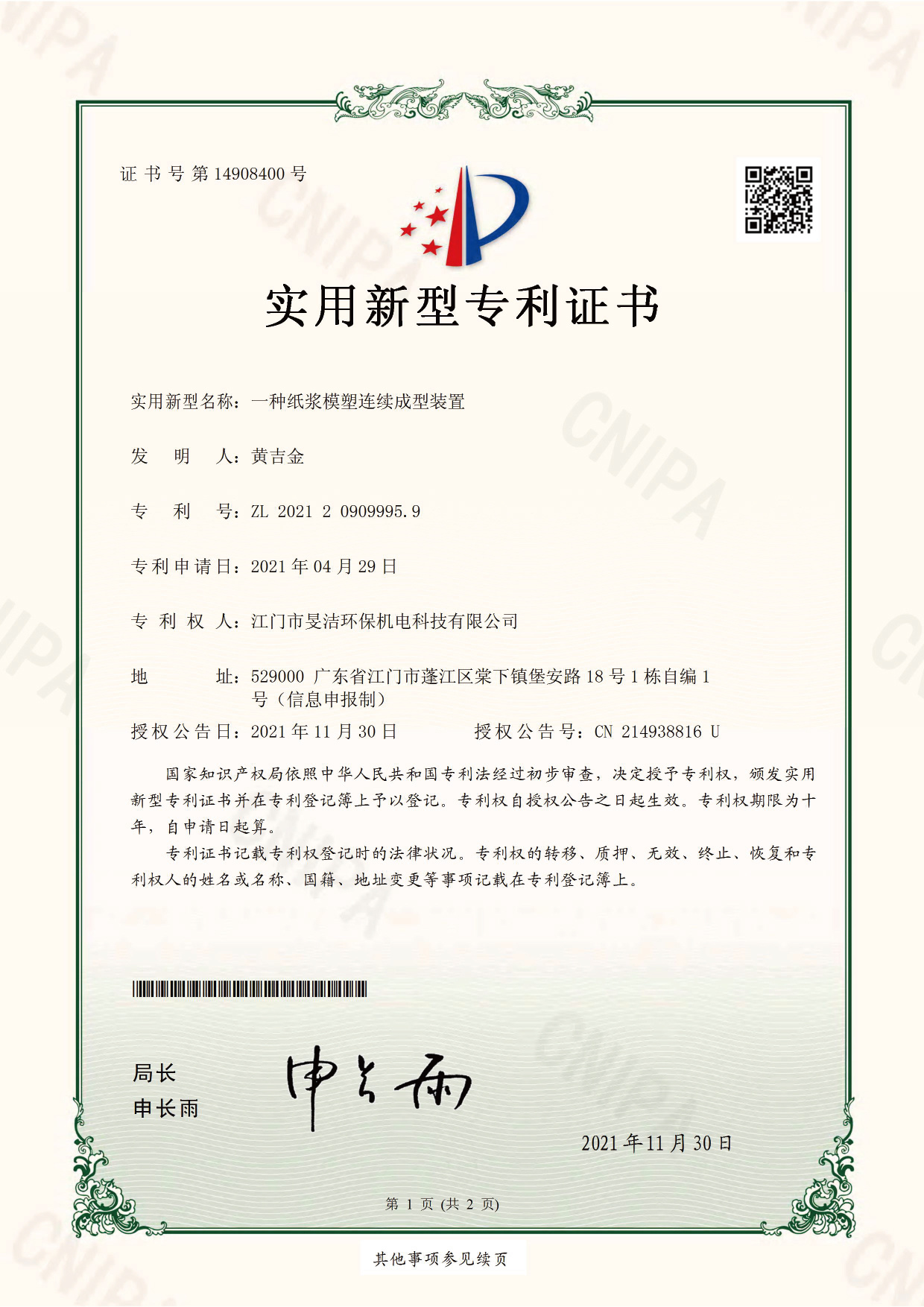 patent
patent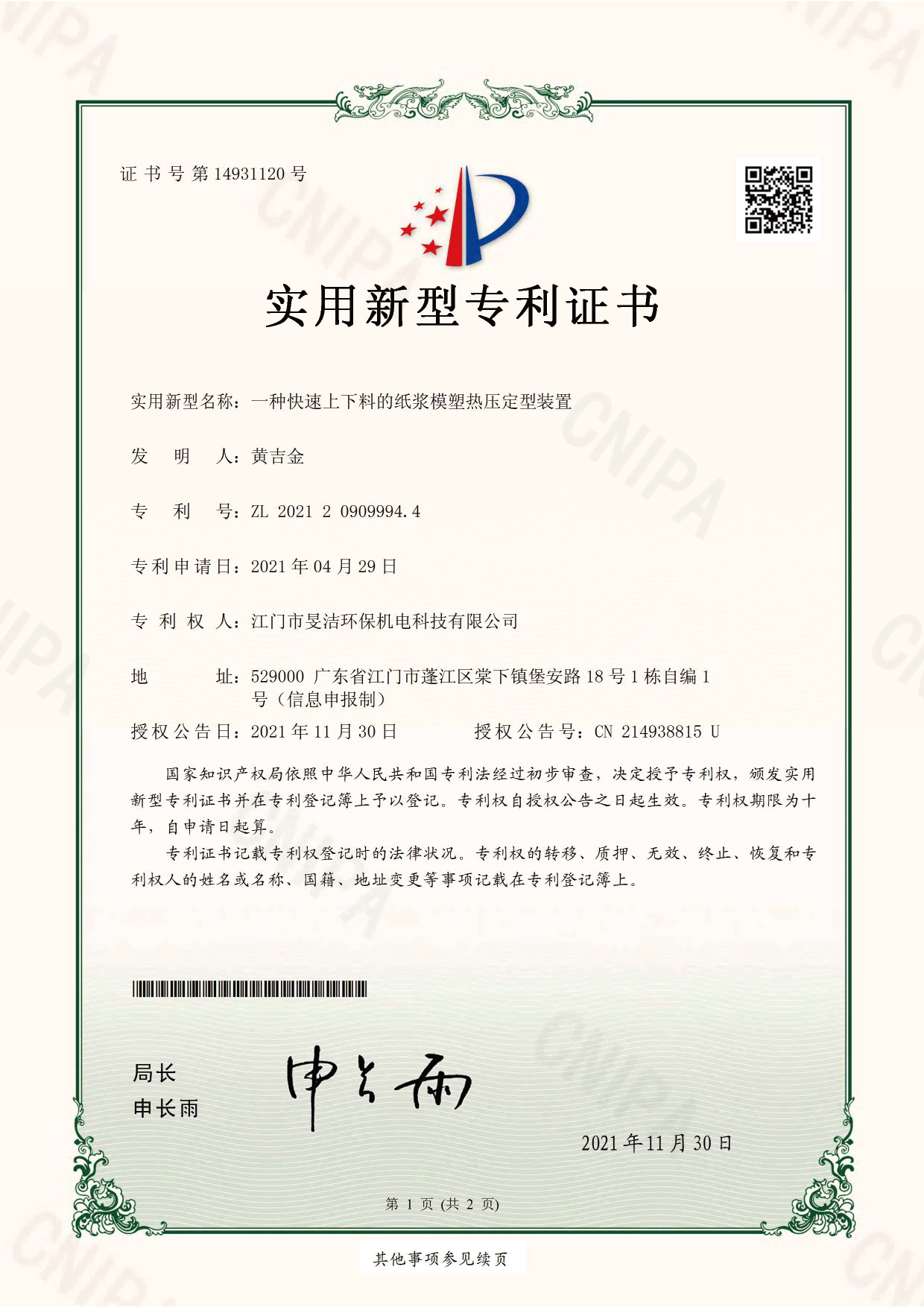 patent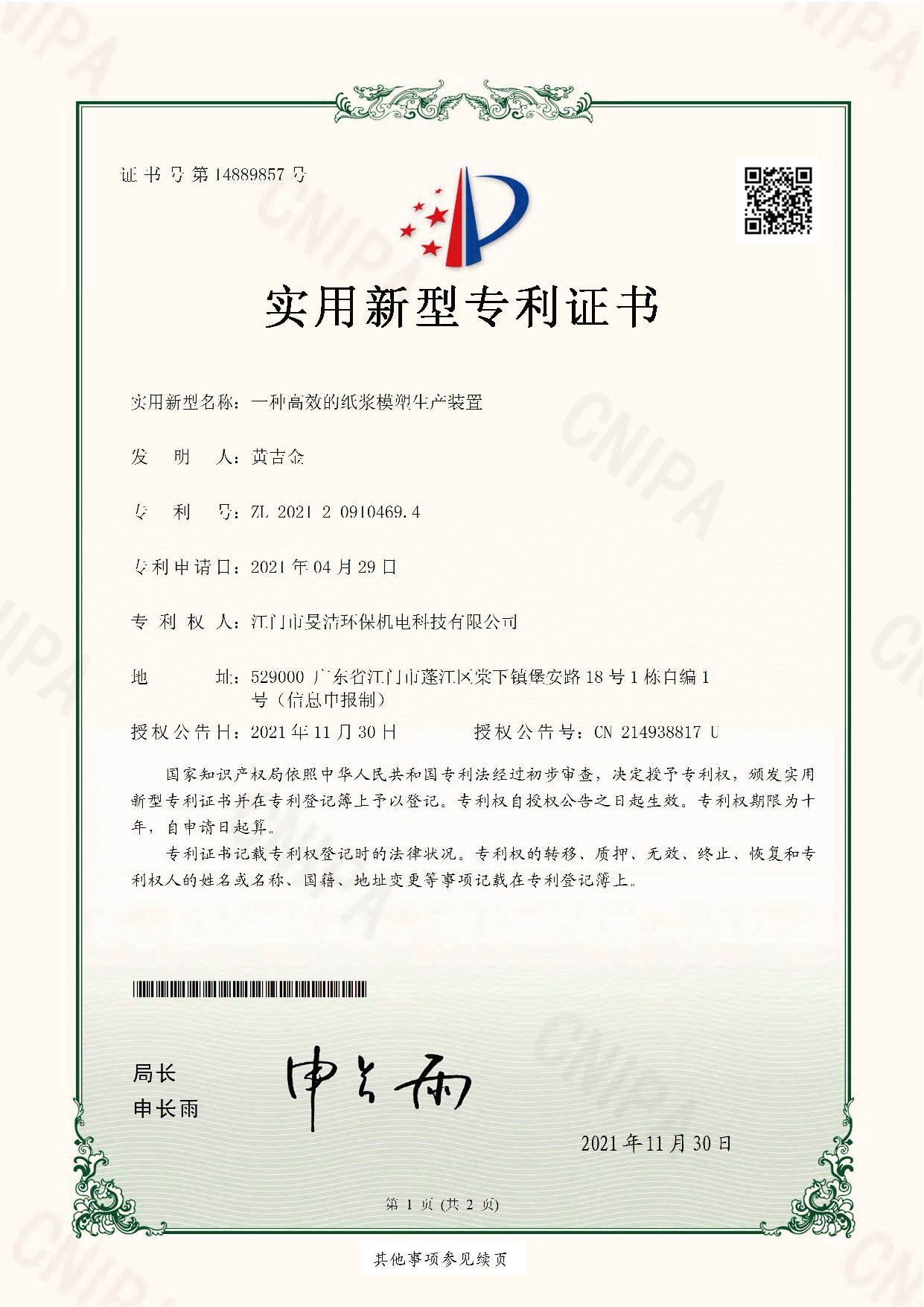 patent
Minjie Eco-Machinery Technology Co., Ltd.
Factory
Tangxia Town, Pengjiang District, Jiangmen City, Guangdong, China
Operation Center
Lihe Science Park, Shishan Town, Nanhai District, Foshan City, Guangdong, China
---