Minjie | Minjie Acquired More Utility Patents and Invention PatentsLately
---
Minjie's more patents are approved by Authority


Lately, with the approval and publication by the China National Intellectual Property Administration, Minjie has officially acquired 4 more utility patents and 2 more invention patents, making the total quantity of utility and invention patents respectively 4 and 13 in the molded fiber tableware machinery part. Meanwhile, more are being applied for to authority and waiting for approval.
Over the years, Minjie team members have been involved in too many customized and creative cases, which enhances Minjie a lot in the time saving and quantity guarantee within the application procedures.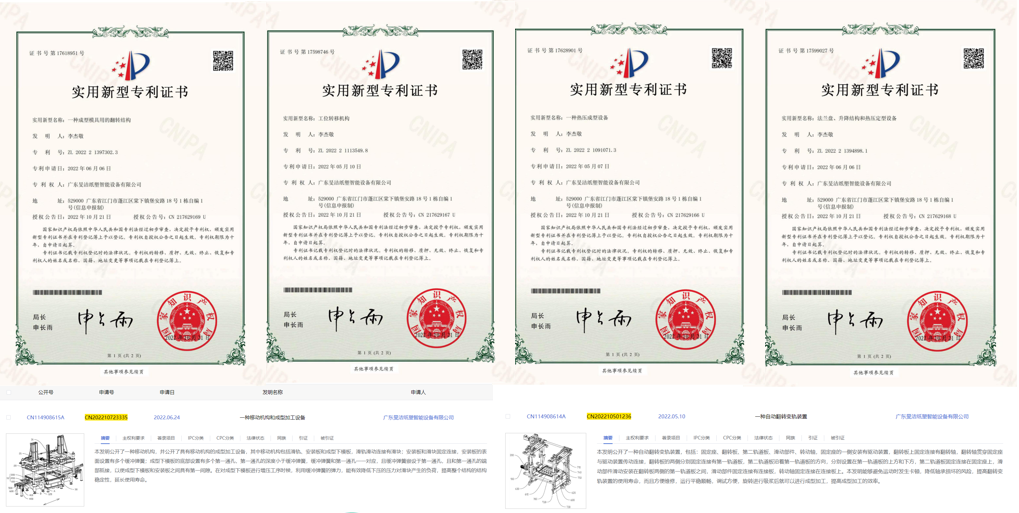 With more and more strength involved in molded fiber or say pulp molding industry, the machine stability itself, which results from the core processing and structure designing (which we say technology), will be one of the most competitive elements in the coming fierce market. And of course, Minjie is also cooperating closely with some IMFA fellows in more new technology towards production line's integrated automation.
Leave the chance to Minjie, and you will be fruitfully awarded.
Reported by Minjie
Relate Blog
undefined
Minjie Eco-Machinery Technology Co., Ltd.
Factory
Tangxia Town, Pengjiang District, Jiangmen City, Guangdong, China
Operation Center
Lihe Science Park, Shishan Town, Nanhai District, Foshan City, Guangdong, China
---